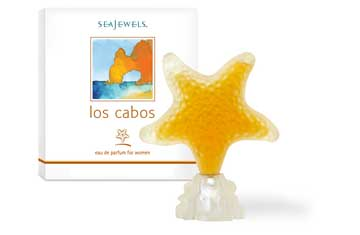 Features:
High impact visual presentation by the design of its bottle and packaging, unique product exclusive destination.
Advantages
Eau de parfum to 18% concentration.
Olfactory family Floriental
Woody subfamily
TASTE specification.
Because of its high percentage of the fragrance concentration shows stability in the body and skin, achieving a long lasting flavor.
Benefit
Sweet, intoxicating and sensual as a sunset on the beautiful golden sandy beaches of Los Cabos.
Rose, peony, freesia and a delicious touch of vanilla to transport you fail to fully amalgamate the majestic Sea of Cortes and warm sea breeze.

NOTES
Top notes: Mandarin, Bergamot, Green and Fruit Chords
Heart notes: Patchouli, Heliotropin, Vanilla, Musk
Bottom notes: Rose, Peony, Freesia, Violet, Jasmine, Cinnamon
To defferentiate and reorder your new fragrance please see the bottle